Our new Rewards Program - Paw Points
Earn rewards as Paw Points & redeem them with exclusive discounts & more! Click on the orange button at the bottom

Earn Nature's Farmacy Paw Points & Turn Them Into Rewards
In the continuing effort to bring the best ways for you to shop and save with Nature's Farmacy, our fun and easy Paw Points Rewards Program will now be integrated with our Weekly Specials to bring you even more ways to save with GREAT DEALS!
Everyone starts at the First Place Blue Ribbon Tier with our FREE GIFT of 200 Paw Points TODAY to get you started! At this level, you earn 1 Paw Point for every dollar you spend with us.

Once you have spent $2,001 with us, you move to the Best of Breed Purple & Gold Tier and now earn 2 Paw Points for every dollar spent with us!

After spending $5,001 on Nature's Farmacy products, you will move to our final Best in Show Red, White & Blue Tier, which earns you 4 Paw Points for every dollar spent.
The BEST PART is that no matter how many Paw Points you redeem for discounts, specials and rewards, you NEVER lose your tier level! Which means you are never "starting over" with your tier climbing!!

Here at Nature's Farmacy, we believe in establishing relationships with customers for a lifelong partnership in the health and well-being of your pets. Unlike other rewards programs, we allow you to build your tier level year after year. This is why the savings are so rewarding and beneficial as we all work together to support the health and longevity of all our pets!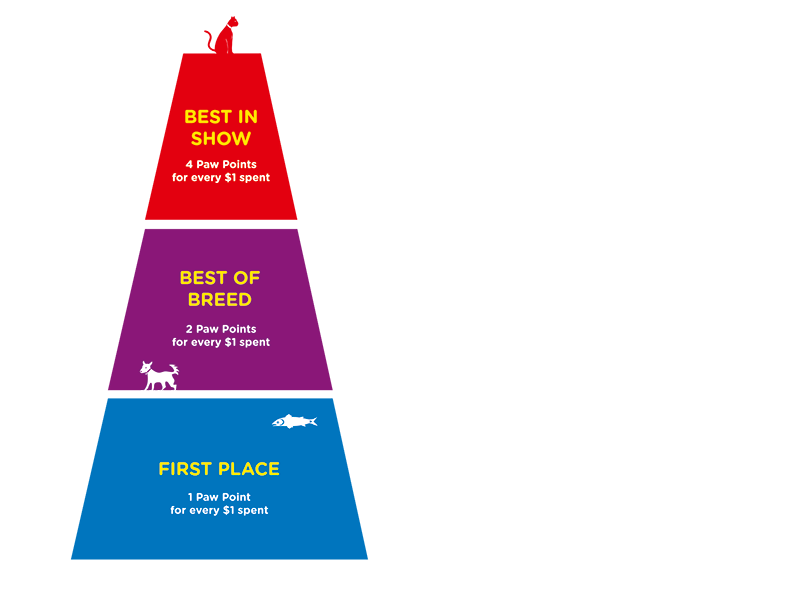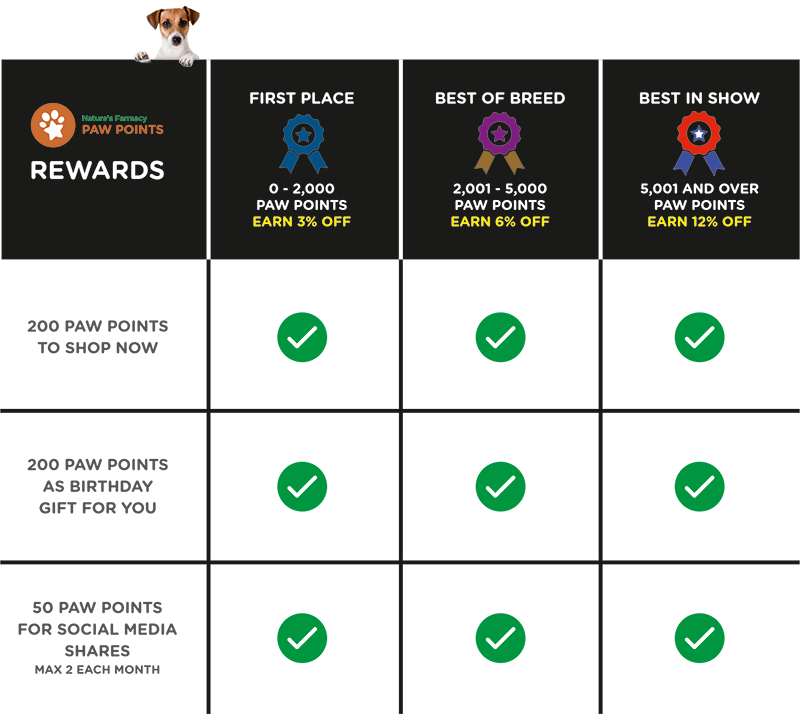 Paw Points earned today are available for your next order

---
Earn UNLIMITED 10% Off Coupons for every referral you make
---
Sign-in and click the orange Paw Points button to see how many you have ready to spend!

---

Did you know, Paw Points expire after 1 year if you don't use them! Don't miss out
Save more with Great Deals! Start using our Paw Points rewards program.
To get started today, click on the orange button :)
Any Free Shipping Special, whether part of a weekly special or a Paw Points Rewards Coupon is only valid for eligible orders in the continental 48 lower United States. Expedited Shipping, International orders and those containing Kennel Blocks are excluded from any Free Shipping offer and the Free Shipping Dollar Amount is not to exceed $25.00.