Weekly Specials
~ 15% OFF on these products ~
Prices Effective from 12:01am EST Friday through Thursday 11:59pm EST
Friday February the 8th till Thursday February 21st

Find out what your pets need to live a longer, healthier life.
Featuring: Jeanette Pickett (Founder) & Lori Pickett (President)
DOGZYMES Cornucopia
Are you looking for a great source of vegetables and fruits for your homemade diet?
Are you currently looking at switching your dog to the healthier and more natural homemade diet and feel overwhelmed by the process?
We have the perfect supplement for you! Dogzymes Cornucopia is an organic, proprietary blend of raw VEGETABLES, FRUITS AND NUTRITIONAL SPROUTS that delivers powerful phytonutrients, making it the most complete and nutrient dense "green" food available for canine and feline diets. No more grinding vegetables for meals or trying to get that finicky dog to eat bulky veggies! Research is clear that phytonutrients are powerful weapons to fight diseases like cancer and inflammatory disease, while improving brain, heart, eye and organ health. Commercial processed dog foods are unable to provide this raw food power and natural enzymes that are able to strengthen the immune system and battle cell damage every day!
This unique product joins the other marketing leading supplements in the Dogzymes Product Line, making the ease and convenience in preparing a homemade diet even simpler! When you add our Cornucopia to the diet, all you have to worry about is preparing the meat and we take care of the rest. Every pound of Cornucopia is equal to 18 pounds of fresh produce, adding cost effectiveness on top of convenience! You just sprinkle on top of the meat for each meal or you can rehydrate it to make a broth to pour over the meat.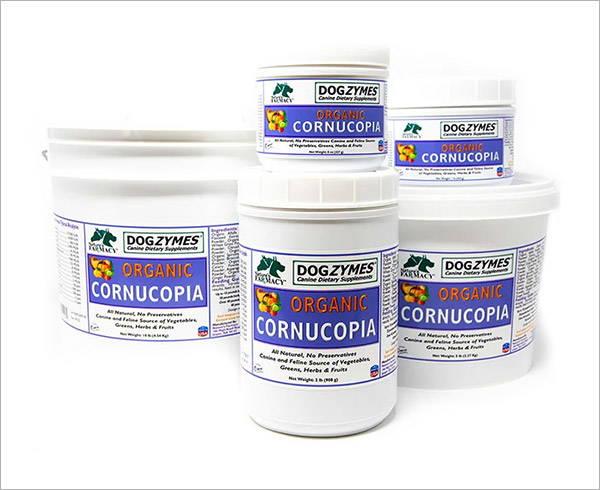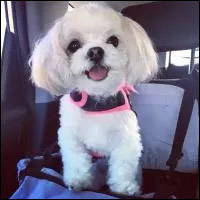 This is Chloe. Chloe just turned 8 in July. In March of this year, Chloe experienced back spasms. She was crying in pain and couldn't get comfortable. I tried everything I could before I took her to the vet because I knew they would just give her some type of shots/drugs. I took Chloe and I told the vet what she was experiencing and before she even looked at her or touch her she just told me to prepare for her to be a back patient for the rest of her life. She told me that from this point on Chloe could not jump on and off the couch, she wouldn't play like normal, and that she should never run. I thought she meant until she healed obviously, but no she met for the rest of her life. I was completely unsatisfied with his answer and quite angry. My friend told me about nature's farmacy. She found them out of fair and was giving her dog phyto-flex. I read up on the website and started mixing in "complete" into Chloe's food in the morning. Ever since Chloe has had no problems and has not had a back spasm since. I am thrilled with the products and just spoke with a woman to help me with her allergies and can't wait to see how the recommendations help. Thank you!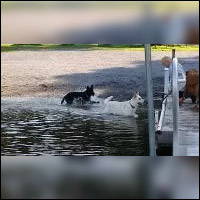 I can't thank you enough for creating your Phyto Flex product. At approximately 5 1/2 months old, my black German shepherd puppy climbed up on something in the back yard and jumped off. At first she seemed fine, but as time passed she started limping and her ankle didn't looked right. She was diagnosed with a Salter Harris Type V fracture of the growth plate in her elbow. As a young puppy, this was devastating news. The likelihood of a complete recovery and being a "normal athletic German shepherd" was less than 10% even with aggressive surgery and physical rehab. This injury is so rare that less than 10 orthopedic surgeons in the country would attempt to repair it in a puppy so young, yet if we waited we risked permanent disability and pain from early onset arthritis. Immediately I put her on my agility dog's Phyto Flex powder. We had to wait over a month for her to grow enough for the elbow to be repaired. The surgeon warned me that she probably would develop arthritis in the leg before we could even get to surgery. I had her on the Phyto Flex twice a day before and after surgery. We went through three months of 22+ hours of crate rest, she had an external fixator on her leg which helped to straighten, lengthen and stabilize the joints while she healed. Almost 10 months after surgery, she is now a VERY ATHLETIC 16 month old shepherd who may have a future in agility once she is fully grown and we reevaluate her joints. The surgeon and I both agree that the Phyto Flex was a key factor in her physical rehabilitation. I can't thank you enough for keeping my 7 yr old German shepherd healthy to be running in top form in agility and giving my puppy a chance to follow in her brother's footsteps!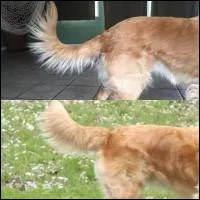 My Golden Retriever, Gabby, has always had a thick, fluffy coat, a beautiful, long, flowing tail, and an abundance of butt fluff. Around August last year, 2016, she developed allergies, and was constantly itching. I never noticed her actually pulling her fur out, but I think her entire coat suffered from the allergy attack. We tried prescriptions from the vet, oatmeal shampoos, even Benadryl, and nothing helped. When it finally got cold enough to freeze and kill whatever was bothering her, she finally stopped itching. A groomer at my work recommended this stuff to me in January, and I started her on it January 16 of 2017. She has been on it for not quite 3 months yet, and her hair coat has improved tenfold! I am SO beyond satisfied with this product, and I haven't even used the whole container yet. She has grown hair in other places that I didn't realize she was lacking, like her belly and around her privates. Her entire coat has grown thicker, longer, fluffier, and shinier all around. This stuff was such a blessing, and a God send! I plan to keep her on this for years to come.